2022 - 06 - 30 | Announcement
Announcing the SIGGRAPH 2022 Pioneers Featured Speaker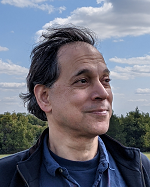 The SIGGRAPH Pioneers are pleased to announce that Ken Perlin, director of NYU's Future Reality Lab, is being honored as our Featured Speaker for the live SIGGRAPH 2022 conference in Vancouver!
Perlin will present a retrospective of his fascinating career and will conclude with his thoughts on the future of computer graphics and interactive techniques. His presentation will take place in person at 6 pm on Tuesday, 9 August at the Fairmont Hotel, as we also celebrate our return to the traditional Pioneers Reception format. All Pioneers members are welcome to attend. There will be light hors d'oeuvres and a cash bar, with each attendee receiving a drink ticket.
Our thanks to Nvidia Corporation for their generosity in helping sponsor the event!
Ken Perlin, a professor of computer science at NYU, directs the Future Reality Lab. Research interests include future reality, computer graphics, animation, user interfaces, and education. He is chief scientist at Parallux and Tactonic Technologies, an advisor for High Fidelity, a member of the SIGGRAPH Academy and a fellow of the National Academy of Inventors.
He received an Academy Award for Technical Achievement for his noise and turbulence procedural texturing techniques, which are widely used in feature films and computer games.
His honors also include the 2020 New York Visual Effects Society Empire Award, the 2008 ACM/SIGGRAPH Achievement Award, the TrapCode Award for achievement in CGI research, the NYC Mayor's Award for excellence in Science and Technology, the Sokol Award for outstanding Science faculty at NYU, and a Presidential Young Investigator Award from the National Science Foundation.
He was general chair of the UIST2010 conference and has been a featured artist at the Whitney Museum of American Art. He received his Ph.D. in computer science from NYU and a B.A. in theoretical mathematics from Harvard. Before working at NYU, he was head of software development at R/GREENBERG Associates, and before that the system architect at MAGI, where he worked on seminal computer animation sequences from the film TRON (1982).
The SIGGRAPH Pioneers is a network of researchers, developers, artists, and educators who have been working in the fields of computer graphics and interactive techniques for at least 20 years. (Some have even been in the field for close to 60 years!) Until the pandemic, the Pioneers held annual receptions at the SIGGRAPH conference each year as an informal get together with old friends and also to hear remarks from a Featured Speaker whose career had a profound influence on our field. Perlin joins a pantheon of recent speakers, including scientific visualization artist Donna Cox, feature film visual effects wizard Douglas Trumbull, CGI production pioneer Jeff Kleiser, CGI researcher Jim Blinn, co-founder of PIXAR Alvy Ray Smith, and CGI Art pioneer David Em.
—Ed Kramer, Chair, SIGGRAPH Pioneers