Opportunity Awaits
SIGGRAPH 2022
Job Fair
The SIGGRAPH 2022 Job Fair will offer opportunities to meet candidates onsite during the one-day event held on Monday, 8 August from 10:00 a.m.-3:00 p.m. with open networking time from 3:00 p.m. – 4:00 p.m. In addition to reserving a tabletop display, companies will be able to lead round table sessions to teach students important skills, tips, and tricks for building resumes, interviewing, and creating a career path.
Participating companies may also post open and upcoming positions on the SIGGRAPH 2022 website to reach both in-person and virtual candidates as well have access to a database of resumes from attendees looking for employment. For more information, click below or email SIGGRAPH@HEIExpo.com.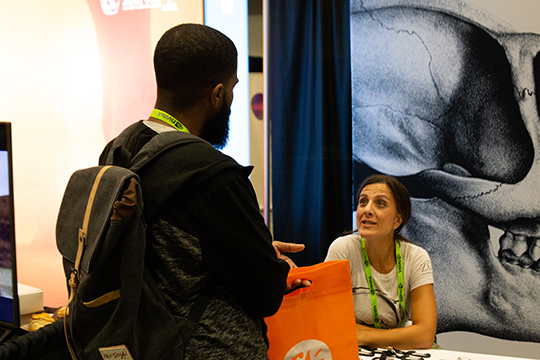 Job Seekers
Are you a SIGGRAPH 2022 attendee looking for employment? Plan on attending the SIGGRAPH 2022 Job Fair, Monday, 8 August 10:00 a.m. – 3:00 p.m. PST in Meeting Room 301 of the Vancouver Convention Centre.
Meet with participating companies to learn about current and future job opportunities and employment benefits, join a roundtable to learn tips and tricks for career planning and securing your dream job, and enjoy the networking and ice cream hour after the job fair from 3:00 p.m. – 4:00p.m.
Roundtable workshops will be held during the Job Fair and will focus on topics geared towards career development. The Roundtable schedule will be posted soon. Current job opportunities will be posted soon. Be sure to check back periodically for new job openings.
Meet the following companies at the SIGGRAPH Job Fair in Vancouver. Please be sure to check back periodically for updates to this list.
Animal Logic
Archiact Interactive Ltd
Atomic Cartoons
Basilic Fly Studios
Bron Studios
Cinesite
CLO Virtual Fashion
CRAFTY APES VFX
Distillery VFX
Encore VFX
FatBelly  VFX
Framestore
Ghost VFX
Intrepid Studios
Isotropix
LAIKA
Mainframe Entertainment, Inc.
PowerHouse VFX
Roblox
Rocket Science VFX (RSVFX)
Roto
Samsung
Savannah College of Art and Design
SCARAB Digital
SDFX
SideFX Software
SkyBox Labs
Sony
Technicolor Creative Studios
The New York Times
Ubisoft Toronto Inc.
Versatile Media Ltd.
Weta FX
Zoic VFX Studios
Get a jumpstart on reaching recruiters and participating companies for exciting career possibilities by submitting your resume prior to the Job Fair. Please use one of the links below to submit your desired career type, resume, and contact information so recruiters can reach you.
SIGGRAPH 2022
Job Opportunities
Expand All
|
Collapse All