Welcome to SIGGRAPH 2022
International Center
The SIGGRAPH International Center, hosted by the ACM SIGGRAPH International Resources Committee (IRC), is a venue designed for supporting international connection. Stay tuned for more information about the meetings, talks, demos, and panels presented by the IRC.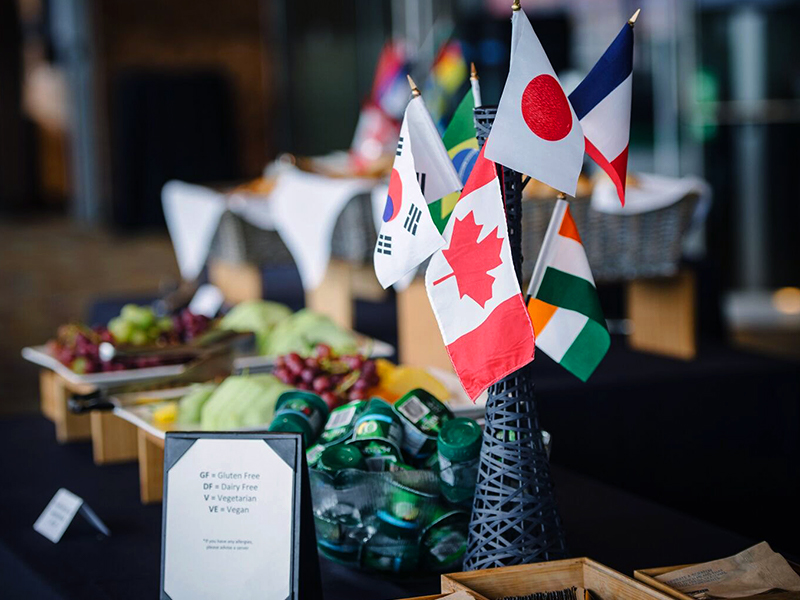 Plan Your Trip
Planning to join us in person in Vancouver? As we approach SIGGRAPH 2022, review this information regarding travel, visas, and frequently asked questions.
Apply for a Visa
Find out if you need a visa to travel to SIGGRAPH 2022 in Vancouver. Check back soon for our interactive visa map.
Looking for the SIGGRAPH 2022 event code for your visa application? The code is: 22SGPH.
A foreign national wishing to enter Canada must obtain a temporary resident visa from one of the Canadian diplomatic missions unless they hold a passport issued by one of the 53 eligible visa-exempt countries and territories or proof of permanent residence in the United States.
Holders of passports issued by the following countries and territories are able to visit Canada without obtaining a visa for a period of up to six months. They are required to obtain an eTA if they arrive by air, except for U.S. nationals and citizens of France residing in Saint Pierre and Miquelon arriving directly from the territory, who are exempt from the eTA requirement. Nationals of certain countries must arrive by air when not holding a Canadian visa: (*)
European Union All European Union citizens
Andorra
Australia
Bahamas
Barbados
Brunei
Chile
Hong Kong
Iceland
Israel
Japan
Liechtenstein
Mexico
Monaco
New Zealand
Norway
Papua New Guinea
Samoa
San Marino
Singapore
Solomon Islands
South Korea
Switzerland
Taiwan
United States
Vatican City
Invitation Letter (Letter of Recognition)
You must register for SIGGRAPH 2022 before you can request or receive an invitation letter (or letter of recognition). If you register online, and reside outside Canada, you will automatically receive your letter of invitation in the confirmation email after you complete your registration. If you register by postal or courier service or fax, please request a letter of invitation directly from our conference registration team.
If you have questions regarding your letter, or need to request one, please contact conference registration.
Visa Refusal
SIGGRAPH supports the international community and wants visitors to feel safe and assured when traveling to the conference. If you are refused entry, and you can provide appropriate documentation, SIGGRAPH will refund your registration with no penalty. This is something SIGGRAPH conferences have always done for those who have had their visas refused. For this and other questions, please contact conference registration.
Submission of Applications
Please refer to IRCC website to learn about a temporary resident visa (visitor visa) and the process to apply for one.
Please note that visa applications are considered on a case-by-case basis based on the information presented by the applicant. The onus is on the applicant to show that they meet the requirements for a temporary resident visa. While a special event code has been assigned to your event, it does not offer any advantage to the applicant, in terms of a positive visa outcome. The applicant must meet all the eligibility criteria in order to receive a visa.
Processing times for visa applications  vary depending on the visa office and the time of the year. Participants are encouraged to check  processing times to find out how long it takes to process most applications.  Each application is different and takes a different amount of time to process. If you've already applied, learn how to check your application status.
Participants are encouraged to apply at least 12 weeks in advance of their departure date to ensure they receive the visa in time for the start of the event.
Biometrics Expansion
Since the summer of 2018, when you apply for a visitor visa, study or work permit (except U.S. nationals), or permanent residence you need to give your fingerprints and a photo. To facilitate repeat travel to Canada, applicants for a visitor visa, study or work permit will only need to give their biometrics once every 10 years.
For additional information on whether or not you require a biometric, please refer to our fast facts about Biometrics.
Electronic Travel Authorization (eTA)
Since 10 November 10 2016, visa-exempt foreign nationals must have an Electronic Travel Authorization (eTA) to fly to or transit through Canada. Exceptions include U.S. citizens, and travelers with a valid Canadian visa. Canadian citizens, including dual citizens, and Canadian permanent residents are not eligible to apply for an eTA.
IMPORTANT
SIGGRAPH 2022 strongly suggest all attendees to verify their immigration status and if they need to apply for a visa through the Immigration and Citizenship section of the Government of Canada. The section Travel and Tourism also provides updated and reliable information. Due to the fact that an application for a visa can be a lengthy process, SIGGRAPH 2022 also recommends that you start your visa-application process as early as possible prior to the conference.
(*) Source: https://en.wikipedia.org/wiki/Visa_policy_of_Canada
Health and Safety
Your health and safety is a priority for SIGGRAPH 2022. SIGGRAPH 2022 is following local COVID-19 guidelines related to vaccination, masking, and testing. Please visit the Health & Safety page for the latest information.
Frequently Asked Questions
How can I find out if other people from my country or region are attending SIGGRAPH 2022?
During the conference, the International Center is a good meeting place, as it is specifically designed to provide a comfortable area to network and meet other international attendees. The International Resources Committee also organizes regional sessions dedicated to highlight the best of CG in the world.
Prior to the conference, you can contact your local ACM SIGGRAPH chapter and inquire about possible meetups or get-togethers happening during SIGGRAPH. Check back here for chapters in your area.
Back to Top