Welcome to SIGGRAPH 2022
SIGGRAPH 2022 Juries
It is the commitment of our valued juries that allows us to best share what is transforming our fields and our world.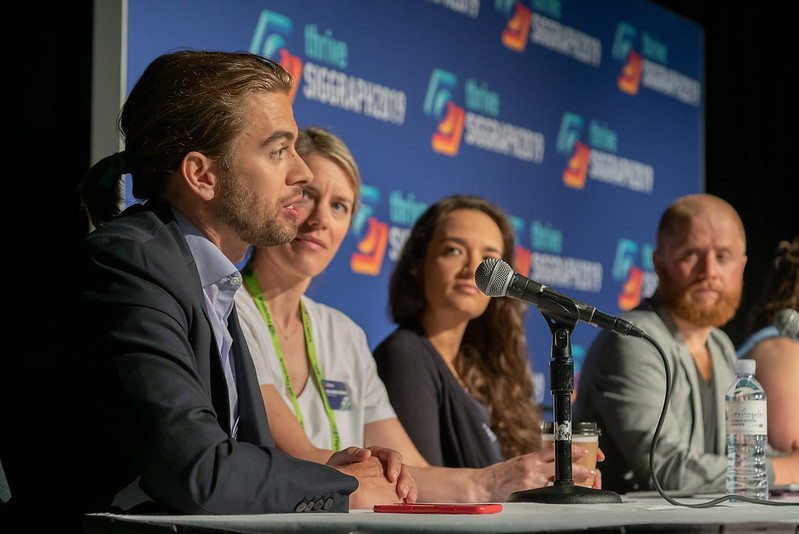 On behalf of the SIGGRAPH 2022 Committee, we would like to thank the following jurors for their knowledge, expertise, and dedication to SIGGRAPH.
ART GALLERY JURY
Daria Tsoupikova, SIGGRAPH 2022 Art Gallery Chair
University of Illinois at Chicago, Electronic Visualization Laboratory
Gabriela Aceves Sepulveda
Simon Fraser University, School of Interactive Arts and Technology
Behnaz Farahi
California State University, Long Beach; USC Annenberg
Yoon Chung Han
San Jose State University
James Lee
Connecticut College
Yagız Mungan
Facebook Reality Labs, Purdue University
Everardo Reyes
Université Paris 8
Rebecca Ruige Xu
Syracuse University
ART PAPERS JURY
Daniel Cardoso Llach, SIGGRAPH 2022 Art Papers Chair
Carnegie Mellon University
Freida Abtan
Carnegie Mellon University
Gabriela Aceves Sepulveda
Simon Fraser University, School of Interactive Arts and Technology
Yana Boeva
University of Stuttgart
Roberta Buiani
University of Toronto, Fields Institute for Research in Mathematical Sciences
Benay Gursoy
The Pennsylvania State University
Nicolas Henchoz
Ecole Polytechnique Fédérale de Lausanne, EPFL+ECAL Lab
Anna Henson
University of Nebraska Lincoln
Andrew Hieronymi
Pennsylvania State University
Rodrigo Martin Iglesias
Universidad de Buenos Aires, Humboldt Universität zu Berlin
Leonardo Parra
Universidad de los Andes
Annina Ruest
Florida Atlantic University, Harriet L. Wilkes Honors College
Theodora Vardouli
McGill University
ELECTRONIC THEATER JURY
James Buckhouse
Sequoia
Michela Ledwidge
Mod
Dan Lemmon
Wendy Rogers
Netflix Animation
Marlon West
Walt Disney Animation Studios
Boo Wong
Unity Technologies
POSTERS JURY
Olga Diamanti, SIGGRAPH 2022 Posters Chair
Technische Universität Graz, Institut für Geometrie
Yagiz Aksoy
Simon Fraser University
Amit H. Bermano
Tel Aviv University
Mikhail Bessmeltsev
University of Montreal
Daljit Singh J.S. Dhillon
Clemson University
Ioannis Gkioulekas
Carnegie Mellon University
Alexandra Ion
Carnegie Mellon University
Srinath Sridhar
Brown University, Amazon
REAL-TIME LIVE! JURY
Yibing Jiang, SIGGRAPH 2022 Real-Time Live! Chair
Unity Technologies
Yosun Chang
AReality3D, Permute.xyz
Jeremy Cowles
Unity Technologies
Angela Luo
Facebook Reality Labs
Inigo Quilez
Shadertoy
Can Yuksel
NVIDIA
Ryan Trowbridge
343 Industries
TECHNICAL PAPERS COMMITTEE
UNIFIED JURY
Chris Redmann, SIGGRAPH 2022 General Submission Chair
Netflix
Sheldon Andrews
École de Technologie Supérieure, McGill University
Pau Baiget
Google Inc.
Elizabeth Baumel
Unity Technologies
Brian Beams
Santa Clara University, Imaginarium
Ari Blenkhorn
Johns Hopkins Applied Physics Laboratory
Peter Bowmar
Quixel, Epic Games
Robert Bridson
Autodesk
Monica Cappiello
Ohlone College
Larry Cutler
Baobab Studios
Stephanie Eisenberg
Gravity Brands
Bridget Gaynor
Savannah College of Art and Design
Mashhuda Glencross
University of Queensland
Ivan Guerrero
Method Studios
Mk Haley
University of Texas at Austin
Derek Ham
North Carolina State College of Design
Jeff Han
Independent
Christine Holmes
Netflix Animation
Nick Jushchyshyn
Drexel University, Epic Games
John Kalaigian
Hornet
David Lally
Pixar Animation Studios
Ward Lopes
NVIDIA
Bilali Mack
Alkemy-X
Ken Museth
NVIDIA, Weta Digital
Veronica Orvalho
Didimo Inc., Universidade do Porto
Ken Perlin
New York University
Rob Pieke
SideFX
Maxwell Planck
Rec Room, Adventure Lab
Stewart Pomeroy
Pixar
Kristy Pron
Walt Disney Imagineering
Anna Queiroz
Stanford University
Susan Reiser
University of North Carolina Asheville, Vassar College
Marshall Robin
Naughty Dog
Trina Roy
Pixar
Selma Sabera Ruzdijic
4Realz LLC
Rajesh Sharma
Spire Animation Studios
Weiqi Shi
Roblox
Tamar Shinar
University of California Riverside
Dave Shreiner
Unity Technologies, Sonoma State University
Maryann Simmons
Walt Disney Animation Studios
Josef Spjut
NVIDIA
Courtney Starrett
Texas A&M University
Christina Tempelaar-Lietz
Epic Games
Erika Varis Doggett
Walt Disney Studios
Chris Wyman
NVIDIA
VR THEATER JURY
Yangos Hadjiyannis, SIGGRAPH 2022 VR Theater Chair
Centre for Digital Media
Vivian Chan
ServiceNow
Juliana Loh
Patrick Owens
Immersive Tech
Patrick Pennefather
The University of British Columbia
Mirjana Prpa
NexTech AR Solutions