Gathering and Honoring Our Community
ACM SIGGRAPH Awards
Each year, ACM SIGGRAPH honors its members with ACM SIGGRAPH awards for researchers, practitioners, artists, and educators. The SIGGRAPH Conference itself also honors contributors from different areas of the conference.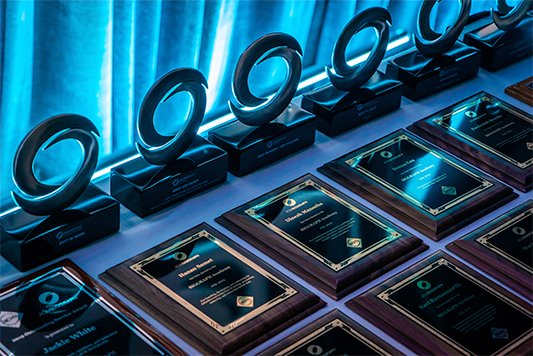 Celebrate the Awardees
ACM SIGGRAPH Awards Presentations
Available on-demand starting 25 July through 31 October
ACM SIGGRAPH Awards Talks
Wednesday, 10 August
9-10:30 am PDT
West Building, Room 109-110
Award Recipients
Computer Graphics Achievement Award
Michiel van de Panne
University of British Columbia
Significant New Researcher Award
Justin Solomon
MIT
Outstanding Doctoral Dissertation Award
Xuebin (Jason) Peng
University of California, Berkeley
     Honorable Mention:
     Yuanming Hu
     MIT
Outstanding Service Award
Barb Helfer
Distinguished Artist Award for Lifetime Achievement in Digital Art
Vera Molnár (MK Haley will be accepting the award on Vera's behalf)
ACM SIGGRAPH Practitioner Award
Pol Jeremias
Iñigo Quilez
ACM SIGGRAPH Distinguished Educator Award
Edward Angel
ACM SIGGRAPH Academy
Marc Alexa
T.U. Berlin
Paolo Cignoni
CNR-ISTI
Hans-Peter Seidel
Max-Planck-Institut für Informatik
Peter Shirley
nVidia
Now Accepting Nominations
ACM SIGGRAPH presents nine awards to recognize exceptional achievements in computer graphics and interactive techniques. Awards are presented annually at the SIGGRAPH North American conference. You are invited to nominate a colleague who has made significant contributions to our field. For more information about the awards — including honors such as the Computer Graphics Achievement Award, Significant New Researcher Award, Outstanding Service Award, and Distinguished Educator Award, among others — visit the ACM SIGGRAPH website.
Awards nominations are now closed.