Spotlighting
Diversity, Equity, and Inclusion
SIGGRAPH prioritizes conversations and industry contributions that spotlight how diversity makes our communities, industries, and teams stronger. Events in the DEI program provide a safe place to grow, discuss, and learn from one another and to bridge boundaries with the goal of making our community more inclusive and accessible to all.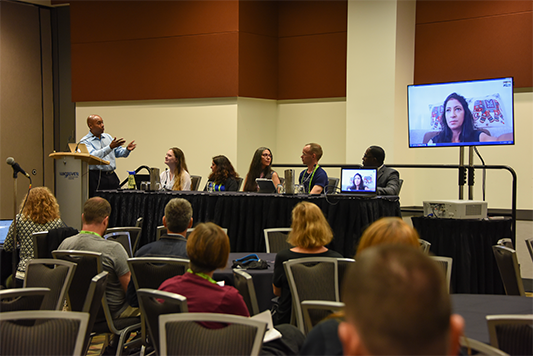 #DEI
This year, the ACM SIGGRAPH Diversity, Equity, and Inclusion (DEI) Committee encourages submissions that spotlight DEI across every SIGGRAPH program.
Tag your submission #DEI if your work spotlights issues of diversity, equity, and inclusion — regardless of the category or type of content you are submitting.
Call for Submissions
The ACM SIGGRAPH DEI Committee is also directly accepting submissions that support advancements in diversity, equity, and inclusion in computer graphics and interactive techniques.
Our committee will review submissions inclusive of SIGGRAPH's broad range of content — from DEI Talks, speaker proposals, animations, Courses, BOFs, or Panels! Unless your submission is primarily targeted for a different call for proposals (in which case, hashtag it #DEI and submit it to the primary category), our call for submissions is designed to create a program of content that reflects the diversity of our community. Surprise us, incite us — our call is open to any type of content. We embrace a neuro-diverse and inclusive approach to content.
We would love to see submissions addressing but not limited to:
Disability and accessibility
DEI technology
Employee activism
Employee resource groups
DEI in education
Global diversity practices
Legal agreements
Mental health in the workplace
Mentorship and sponsorship
Pay equity/pay equality
LGBTQIA+
Recruitment, retention, advancement
Resources for underrepresented groups
Long-term structural change for inclusive work environments
Allyship: how to be an ally
Submissions open on 11 March 2022 at 22:00 UTC/GMT. Submissions are due 22 May 2022 at 22:00 UTC/GMT.
Acceptance or rejection notices will be sent to all submitters by 10 June 2022.
Content will be pre-recorded and presented in the SIGGRAPH 2022 virtual conference.
Note: Submissions for Spotlighting: Diversity, Equity, and Inclusion are currently closed.