An App for Everything
Appy Hour
Discover innovation, creativity, and all that a mobile device can do in this forum where attendees interact with developers and experience the next generation of mobile media in a fun, festive atmosphere.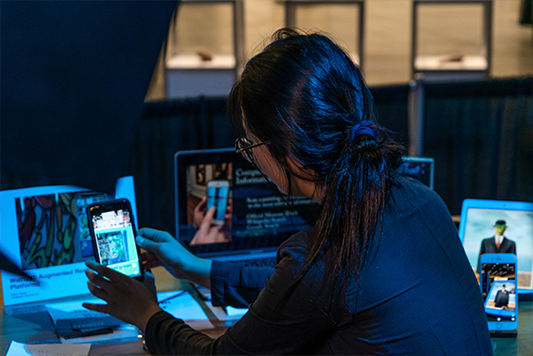 "I'm excited to hear from the authors of this year's SIGGRAPH Appy Hour developers, as we return to in-person presentations. The slate of engaging mobile applications covers education, stylistic rendering, machine learning, and augmented reality. Join me to hear more about these, and others, at this year's conference!"
Chris Redmann
SIGGRAPH 2022 General Submissions Chair
---
Submit your app to SIGGRAPH 2022 to showcase your work in front of the industry. Whether your app uses augmented reality, high-end mobile gaming, computational photography, image manipulation, location-based gaming, content creation, or anything else mobile devices (smartphones, tablets, hybrids) can do, we invite you to submit your project to SIGGRAPH 2022's Appy Hour.
Appy Hour provides you with the feedback, new ideas, and valuable contacts you need to move your efforts forward. Plus, accepted developers can network and showcase their app in-person in Vancouver.
Note: Submissions for Appy Hour are currently closed.