Artistic Innovation
Art Gallery
Art Gallery is a juried exhibition that showcases the latest innovations in digital art and welcomes artists and enthusiasts alike to a space for creative contemplation.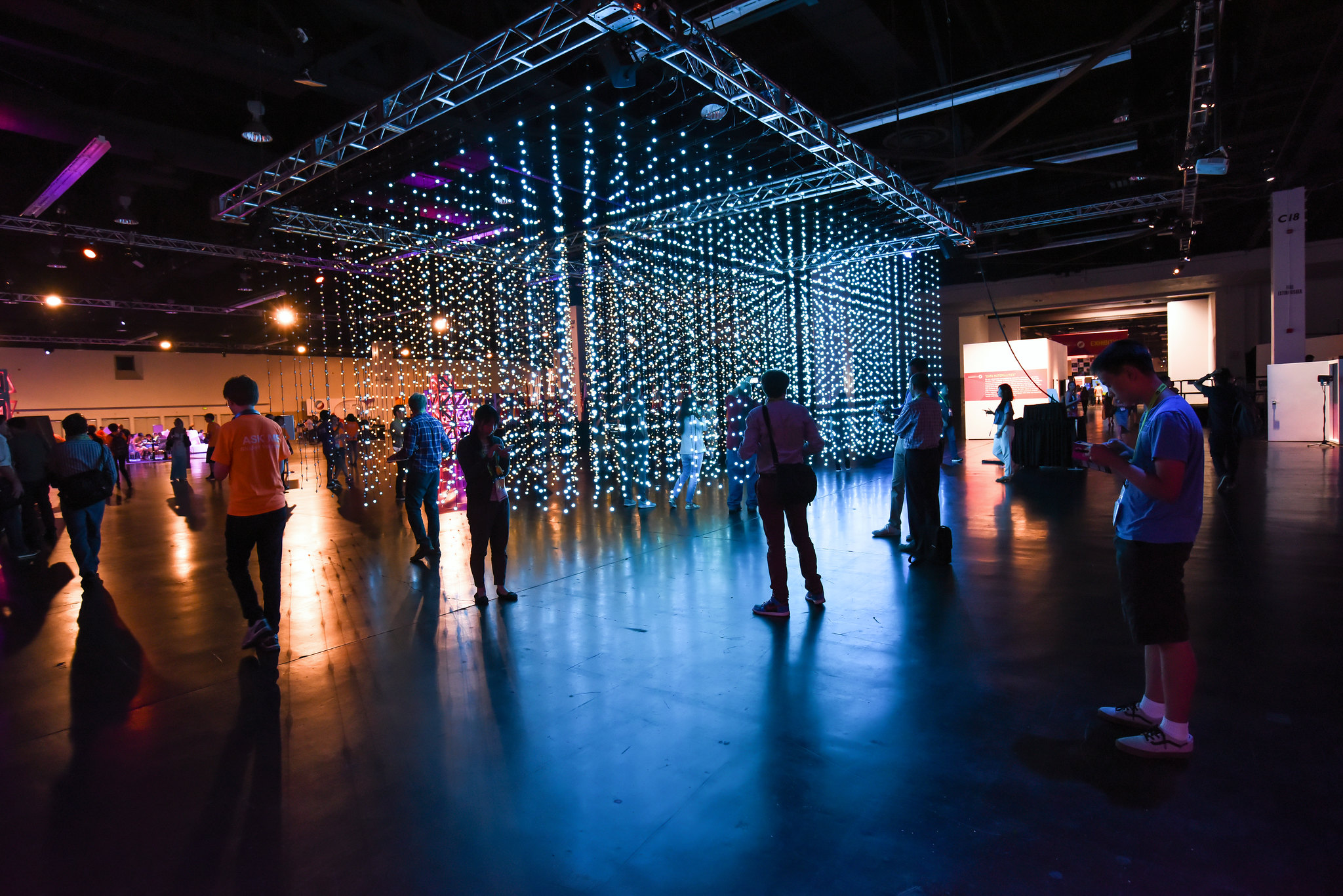 Best in Show
SIGGRAPH 2022 Art Gallery Best in Show: Ray
RAY provides a responsive art experience that re-interprets Rayograph (photogram) – a 20th Century cameraless image-making technique – in the perspective of Artificial Intelligent (AI) surveillance and the changing ontology of images. The system implements Image-to-Image Translation with Conditional Adversarial Networks and a computer vision system to translate human portraits into new images of Rayograph with semantic meanings, which are further developed algorithmically through visualizing in the aesthetics of light painting. RAY bridges intelligent visualization with cameraless photography Rayograph to engage audiences with an interactive poetic experience that conveys meanings.
Contributor:
Weidi Zhang
Media Arts and Technology Program (MAT), University of California, Santa Barbara (UCSB)
Submit To The Art Gallery
Arts and Health, the Convergence
Since ancient times, people have been interested in the function of our bodies and the work of our minds. Artists and scientists have applied the most advanced technologies of their times in their quest to understand the human body. The history of healthcare is the history of scientific exploration, discovery and innovation. But healthcare is also a visual science, so its history is not complete without the contributions of artists to document human anatomy, surgical procedures and diseases for research and education. From this point of view, the human body and mind unframe a nexus of healthcare and art and offer explorations into two very different domains.
2022. The world has been navigating the COVID-19 pandemic for two years. As humanity was anxiously waiting for a vaccine, medicine became our art, and art became our medicine. Artists applied cutting-edge technologies to create experimental works that promote mental health, fight social and cultural isolation, augment physical well-being, and improve communication over distance with family and friends.
The SIGGRAPH 2022 Art Gallery Theme Arts and Health, the Convergence, invites compelling digital and technologically mediated artworks created over the last two years during the global pandemic. The submissions may include, but are not limited to, creative projects that explore concepts of art and health, push the boundaries of our knowledge, reexamine our bodies and place in the world, advance human abilities, and design today's and future medical, cultural, and virtual realities.
Please join us in the SIGGRAPH 2022 Art Gallery at the Vancouver Convention Centre.
Daria Tsoupikova
SIGGRAPH 2022 Art Gallery Chair
Note: Submissions for Art Gallery are currently closed.