Class is in Session
Educator's Forum
SIGGRAPH 2022's Educator's Forum aims to inspire those who teach, from K–12 through undergraduate and graduate programs. The Educator's Forum supports a growing and dedicated community of computer graphics professionals committed to education across an inspiring diversity of disciplines and practice environments.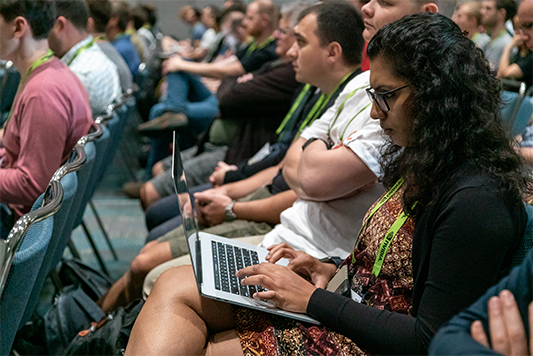 "Are you an educator? Do you love teaching tech to future generations? There is a wealth of knowledge waiting for you at SIGGRAPH 2022! The range of content is vast, from OSL Shaders in RenderMan to holographic sign language to mentorship paths and a robot promoting positive hygiene behavior. SIGGRAPH is the intersection for educators to learn about upcoming technology and trends — a perfect place to level up your classroom experience. You don't want to miss it!"
Monica Cappiello
SIGGRAPH 2022 Education Liaison
---
DON'T MISS: Educator's Day
9:30 am-4:45 pm
West Building, Room 208-209
This special event welcomes a fantastic lineup of trainers including Epic Games, Autodesk, Adobe, Industrial Light and Magic, and Hexagon. Educator's Day content will touch on the topics of visual programming, gamifying learning, shaping the future of animation, and so much more.
Submit To Educator's Forum
Courses, Talks, and Panels from SIGGRAPH's Unified Jury will be showcased in the Educator's Forum. If you are interested in participating in the Educator's Forum, submit your content to General Submissions and check the box that says: "If the jury finds your Course/Talk/Panel to be appropriate for educators, are you willing to have your submission scheduled as part of the Educator's Forum sessions?"
Do you have a unique way of teaching complicated subjects, or have ground-breaking curriculum? The SIGGRAPH 2022 Educator's Forum is looking for submitters just like you! Submit to Engaging Education Techniques and Assignments (EETA).
Engaging Education Techniques and Assignments (EETA) are peer-reviewed course assignments focusing on computer graphics and interactive techniques. They are meant to be made available for educators to easily search, download, and use in their classrooms.
EETA submissions are welcome from educators, researchers, and industry professionals. EETAs do not necessarily need to be novel, but they do need to be innovative. They should be designed and tested for classes at any level, although they often are targeted for later in the curriculum (CS2 and beyond). They should be fun to teach and fun to do.
EETAs are meant to be accompanied by all materials needed to incorporate the assignments into the classroom. Accepted EETAs will be available in the ACM Digital Library.
Note: Submissions for Educator's Forum are currently closed.