The Wonders of Storytelling
Electronic Theater
Be a part of the SIGGRAPH 2022 Electronic Theater experience by sharing your groundbreaking project and demonstrating your unique approach to storytelling in this well-respected animation showcase.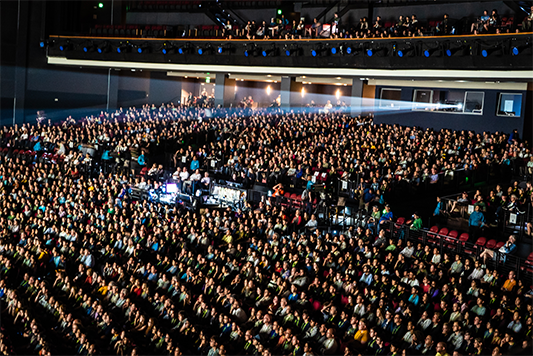 2022 Electronic Theater Awards
Best in Show – "The Seine's Tears"
Yanis Belaid, Pôle 3D (France)
Jury's Choice – "The End of War"
Lei Chen, Tsinghua University (China)
Best Student Project – "Yallah!"
Nayla Nassar, Rubika (France)
Audience Choice* – "Alternate Mesozoic"
Lucie Laudrin, ESMA (France)
*Vote tallied on-site via survey poll.
Best in Show awards determined by a six-member jury; Audience Choice awards determined by the live audience.
Since 1999, the SIGGRAPH Computer Animation Festival's Electronic Theater has been recognized as a qualifying festival by the Academy of Motion Picture Arts and Sciences. It began as an annual showcase of advances in computer graphics, and now celebrates the rise of computer graphics as a medium for storytelling in animation, visual effects, games, scientific visualization, and more.
Submit your best work that educates, entertains, or informs for your chance to be featured in this prestigious showcase. An internationally recognized jury will review your work and award Best in Show, Jury's Choice, and Best Student Project prizes. Notably, several works originally presented in the Electronic Theater have been nominated for or have received a Best Animated Short Academy Award.
Note: Submissions for the Electronic Theater are currently closed.