Create New Realities
Immersive Pavilion
Immersive technologies advance the ways we create, communicate, learn, and play. Experience awe-inspiring breakthroughs in VR, AR, and MR at SIGGRAPH.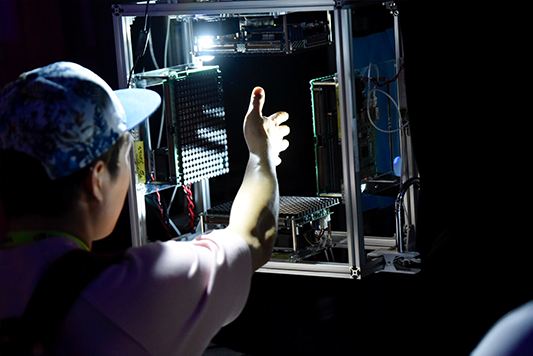 "This year, the Immersive Pavilion at SIGGRAPH 2022 is covering several aspects of VR, AR, and mixed reality. The pavilion shows exciting and novel use cases for working in the metaverse, immersive gameplay, live VR performances, and exploratory use cases of augmented hardware. I am so excited to see the return of hands-on engagement to this year's conference!"
Derek Ham
SIGGRAPH 2022 Immersive Pavilion Chair
---
Top Selection
SIGGRAPH 2022 Immersive Pavilion Top Selection: Journal of My Journey
Journal of My Journey: Seamless Interaction in Virtuality and Reality With Digital Fabrication and Sensory Feedback
Journal of My Journey is a work that explores the possibilities of integrating seamless interactions in virtuality and reality. We let the choices that the users make in the virtual world be output to the real world, thus enhancing the the connection between the reality and the virtual world.
Contributors:
Miguel Then Ying Jie, Lui Ching, Yvone Tsai Chen, Lim Zin Yin, Ping Hsuan Han
National Taipei University of Technology
Submit To Immersive Pavilion
The SIGGRAPH 2022 Immersive Pavilion gathers outstanding content in virtual reality, augmented reality, mixed reality, and beyond! This year's in-person event is a place for contributors and participants to engage in critical discourse on the latest interactive breakthroughs. The Immersive Pavilion seeks submissions with these criteria in mind. First, experiential content is non-narrative based. This includes interactive techniques that solve pragmatic needs for productivity, development, and design challenges are encouraged. But it also includes social experiences, games, and artistic expression. Second, the Immersive Pavilion is platform-agnostic and can include augmented, virtual, and mixed reality; interactive projection mapping; or multi-sensory installations, among others.
Finally, this year, we seek work that addresses this moment in time, "the dawn of the metaverse." We are very interested in seeing immersive technologies and experiences that bring a fresh perspective on this proposed new way of living. How will these technologies bring distant people together to create new memories in surreal or hyper-realistic places? We hope to see a wide range of projects that address the proposed future of living, working, playing, and interacting in these digital immersive spaces.
SIGGRAPH recognizes that diverse contributions stem from academic, professional, and independent fronts, awarding Best in Show and publishing abstracts in the ACM Digital Library.
Note: Submissions for the Immersive Pavilion are currently closed.