Groundbreaking Research
Technical Papers
In this premier venue for disseminating new scholarly work, where scientists and researchers present the latest industry advancements that inspire new ideas, ignite memorable discussions, and propel us forward.

Technical Papers Fast Forward
As a resource to prepare participants for watching all Technical Papers presentation videos in the virtual platform, the Technical Papers Fast Forward videos will launch on the virtual platform on 25 July. All videos will be available on the virtual platform until 31 October. The Technical Papers program at the in-person conference will feature roundtable discussions with authors.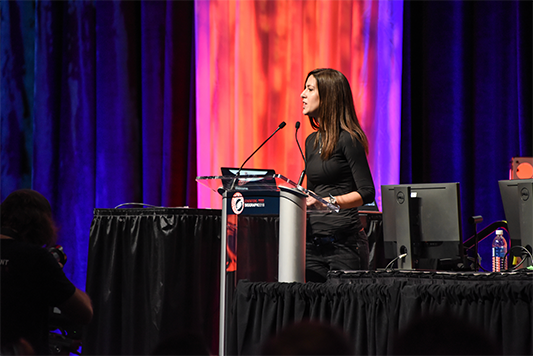 "I am excited to share the SIGGRAPH 2022 Technical Papers program that showcases the very best of scientific contributions spanning multiple areas of computer graphics and interactive techniques. The works represent innovative research that meaningfully combines machine learning with traditional approaches. New this year, you will find the Conference Papers track that captures exciting emerging ideas which hold the potential to reshape our abilities to capture, manipulate, and experience our real and virtual worlds. Yet again the authors have outdone themselves, and I am looking forward to seeing them present their work at SIGGRAPH 2022. See you soon in Vancouver."
Niloy Mitra
SIGGRAPH 2022 Technical Papers Chair
Aaron Hertzmann
SIGGRAPH 2022 Conference Papers Director
2022 Technical Papers Awards
Best Paper Awards
"Instant Neural Graphics Primitives With a Multiresolution Hash Encoding"
Thomas Müller, Alex Evans, Christoph Schied, and Alexander Keller, NVIDIA
"DeepPhase: Periodic Autoencoders for Learning Motion Phase Manifolds"
Sebastian Starke, University of Edinburgh/Electronic Arts; Ian Mason, University of Edinburgh; and Taku Komura, University of Hong Kong

"Spelunking the Deep: Guaranteed Queries on General Neural Implicit Surfaces via Range Analysis"
Nicholas Sharp, University of Toronto; Alec Jacobson, University of Toronto/Adobe

"Image Features Influence Reaction Time: A Learned Probabilistic Perceptual Model for Saccade Latency"
Budmonde Duinkharjav, New York University; Praneeth Chakravarthula, Princeton University/UNC Chapel Hill; Rachel Brown, NVIDIA Research; Anjul Patney, NVIDIA Research; and Qi Sun, New York University
"CLIPasso: Semantically Aware Object Sketching"
Yael Vinker, Tel Aviv University/École Polytechnique Fédérale de Lausanne; Ehsan Pajouheshgar, École Polytechnique Fédérale de Lausanne; Jessica Y. Bo, École Polytechnique Fédérale de Lausanne/ETH; Roman Christian Bachmann, École Polytechnique Fédérale de Lausanne; Amit Bermano, Tel Aviv University; Daniel Cohen-Or, Tel Aviv University; Amir Zamir, EPFL; and Ariel Shamir, Reichman University
Technical Papers Schedule
Monday, 8 August
9 am-12:15 pm and 4-5:30 pm
Tuesday, 9 August
9 am-5:30 pm
Wednesday, 10 August
9 am-12:15 pm and 2:15-3:45 pm
Thursday, 11 August
9 am-5:45 pm
Submit To Technical Papers
The SIGGRAPH 2022 Technical Papers program is the premier international venue for disseminating and discussing new scholarly work in computer graphics technology and interactive techniques. The scientific excellence of the ideas is the predominant acceptance criterion. We are looking for high-quality research papers that cover a broad spectrum of areas including but not limited to animation, simulation, imaging, geometry, modeling, rendering, human-computer interaction, haptics, fabrication, robotics, visualization, audio, optics, programming languages, immersive experiences, and machine learning for visual computing.
At SIGGRAPH 2022, there are two ways to submit your paper to the Technical Papers program.
Journal Papers
Continuation of the same Technical Papers program from previous years
Ideas are extensively tried and tested
When submitting use the "acmtog" article style
No maximum (or minimum) page length
Published in ACM Transactions on Graphics (TOG)
Conference Papers
New program starting in 2022
Exciting new ideas in a shorter format – papers that might be less polished but still have an impact
When submitting use the "acmtog" article style
Double column, 7 pages excluding references. Any appendix should only be included as supplementary material.
Published in SIGGRAPH Conference Proceedings
*The review process, deadline and committee are the same for both Journal and Conference Papers.
More details are in the later sections.
Also, starting in 2022, for the first time we will be giving out Best Technical Papers Awards. Please contact us if you have queries about these changes.
Note: Submissions for Technical Papers are currently closed.
Contact Us