Groundbreaking Research
Technical Papers
In this premier venue for disseminating new scholarly work, where scientists and researchers present the latest industry advancements that inspire new ideas, ignite memorable discussions, and propel us forward.

Technical Papers Fast Forward
As a resource to prepare participants for watching all Technical Papers presentation videos in the virtual platform, the Technical Papers Fast Forward videos will launch on the virtual platform on 25 July. All videos will be available on the virtual platform until 31 October. The Technical Papers program at the in-person conference will feature roundtable discussions with authors.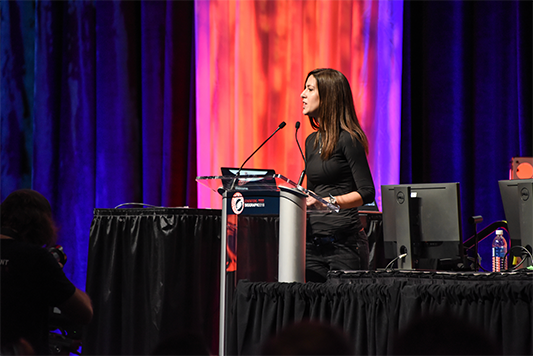 Technical Papers Schedule
Monday, 8 August
9 am-12:15 pm and 4-5:30 pm
Tuesday, 9 August
9 am-5:30 pm
Wednesday, 10 August
9 am-12:15 pm and 2:15-3:45 pm
Thursday, 11 August
9 am-5:45 pm
Submit To Technical Papers
The SIGGRAPH 2022 Technical Papers program is the premier international venue for disseminating and discussing new scholarly work in computer graphics technology and interactive techniques. The scientific excellence of the ideas is the predominant acceptance criterion. We are looking for high-quality research papers that cover a broad spectrum of areas including but not limited to animation, simulation, imaging, geometry, modeling, rendering, human-computer interaction, haptics, fabrication, robotics, visualization, audio, optics, programming languages, immersive experiences, and machine learning for visual computing.
At SIGGRAPH 2022, there are two ways to submit your paper to the Technical Papers program.
Journal Papers
Continuation of the same Technical Papers program from previous years
Ideas are extensively tried and tested
When submitting use the "acmtog" article style
No maximum (or minimum) page length
Published in ACM Transactions on Graphics (TOG)
Conference Papers
New program starting in 2022
Exciting new ideas in a shorter format – papers that might be less polished but still have an impact
When submitting use the "acmtog" article style
Double column, 7 pages excluding references. Any appendix should only be included as supplementary material.
Published in SIGGRAPH Conference Proceedings
*The review process, deadline and committee are the same for both Journal and Conference Papers.
More details are in the later sections.
Also, starting in 2022, for the first time we will be giving out Best Technical Papers Awards. Please contact us if you have queries about these changes.
Present your best scholarly work ― submit today!
Contact Us