Evolve and Engage
Emerging Technologies
SIGGRAPH both showcases, and contributes to, the evolution of technology. As part of the Experience Hall, Emerging Technologies features access to the next generation of the most innovative tech that will shape our future.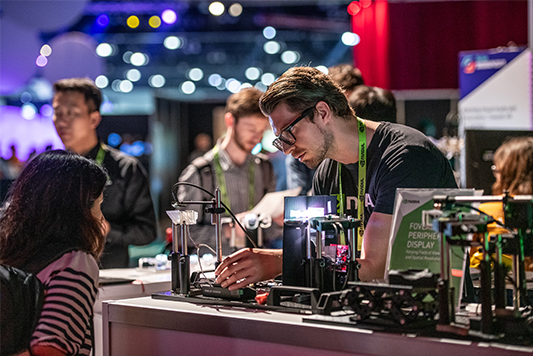 Submit To Emerging Technologies
The SIGGRAPH 2022 Emerging Technologies program will present the latest innovations in graphics and interactive techniques. We particularly welcome submissions that demonstrate the power of technology to make the world a better, more accessible, more connected, and more enjoyable place.
This year, Emerging Technologies will feature both traditional physical installations and demonstrations of innovative technologies, as well as Quick Look video demonstrations for those unable to participate in person due to economical, geographical, physical, or other limitations  We want our community to have exposure to all the best ideas and work out there right now, without the barrier that participation in person can sometimes present.