Evolve and Engage
Emerging Technologies
SIGGRAPH both showcases, and contributes to, the evolution of technology. As part of the Experience Hall, Emerging Technologies features access to the next generation of the most innovative tech that will shape our future.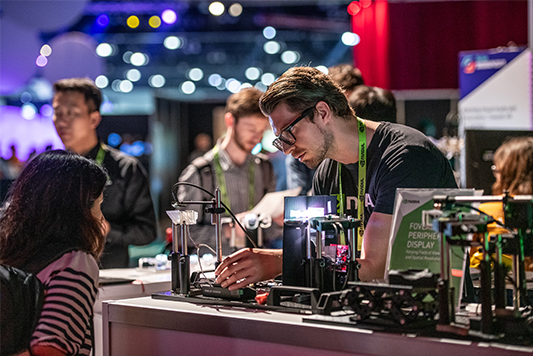 "Emerging Technologies has always been the SIGGRAPH venue that explores and demonstrates the 'interactive techniques' portion of the ACM SIGGRAPH tagline 'Special Interest Group on Computer Graphics and Interactive Techniques.' This year, we have a focus on both significant technical advancements, as well as really interesting application scenarios. One theme we were thrilled to see emerge was accessibility, whether it's technology that enables physical access to a space, overcoming geographical limitations, or systems that allow ease of use for creators to design with advanced tools and processes. The world and the opportunities in it are getting easier to share and participate in due to these creative and technological advancements."
Mk Haley
SIGGRAPH 2022 Emerging Technologies Chair
---
Best in Show
SIGGRAPH 2022 Emerging Technologies Best in Show: HDR VR
HDR VR presents a high dynamic range virtual reality demonstrator capable of reproducing the full range of typical indoor luminance values, from 0.05 nits to more than 16,000 nits. Demo visitors experience this higher fidelity VR display that more fully utilizes the human eye's dynamic range.
The jury felt as if the installation not only met, but exceeded, our expectations for the on-site demonstration. Not only was the technology advanced to the point of excellence in the field, but the demonstration and models on-site really went a long way to communicating some complicated concepts in an elegant manner for our attendees.
Honorable Mentions
RAPID DESIGN OF ARTICULATED OBJECTS: AN INTERACTIVE SHOWCASE
This project present a novel 3D sketching system for rapidly designing articulated 3D concepts with a small set of coherent pen and multi-touch gestures. The system bridges the gap between 2D sketching and 3D modeling and is generally applicable in film, animation, game, and product design.
This was a really clean and engaging presentation of the possibilities of a tool that allows creators to quickly develop articulated content.
WONDERSCOPE: PRACTICAL NEAR-SURFACE AR DEVICE FOR MUSEUM EXHIBITS
This project proposes a practical near-surface AR device for museum exhibits called WonderScope, a peripheral device for mobiles. With a small RFID tag, it enables an experience like seeing through or magnifying the surface of exhibits. It performs on various materials of surfaces, regardless of the lighting environment.
This was a delightful next step in the development of guest engagement technologies for museums and similar installations.
Submit To Emerging Technologies
The SIGGRAPH 2022 Emerging Technologies program will present the latest innovations in graphics and interactive techniques. We particularly welcome submissions that demonstrate the power of technology to make the world a better, more accessible, more connected, and more enjoyable place.
This year, Emerging Technologies will feature both traditional physical installations and demonstrations of innovative technologies, as well as Quick Look video demonstrations for those unable to participate in person due to economical, geographical, physical, or other limitations  We want our community to have exposure to all the best ideas and work out there right now, without the barrier that participation in person can sometimes present.
Note: Submissions for Emerging Technologies are currently closed.