Explore New Realities
VR Theater
Experience the world of immersive storytelling and celebrate the evolution of VR with a showcase of short-form narratives in an in-person theater setting.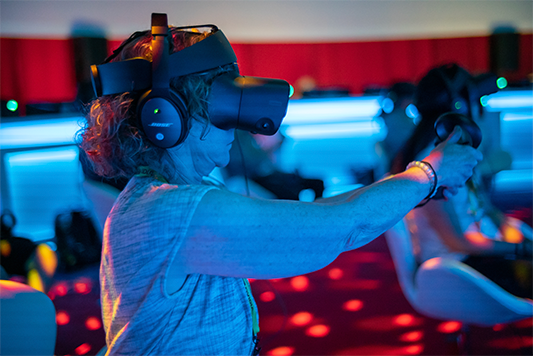 Submit To VR Theater
The SIGGRAPH VR Theater strives to create a memorable experience in a world of immersive storytelling. From documentaries to fantasy films, the VR Theater showcases the best of the world's auteurs working in a medium without walls or frames. Our goal is to provide attendees with a fresh perspective on this ever-evolving medium. These short-form narratives provide a glimpse into new ways of storytelling that indeed create virtual realities.
Contribute to what's next for virtual reality storytelling by sharing your short-form narratives as part of this truly theatrical experience.
The VR Theater is a showcase featuring innovative and inspiring virtual reality stories. Attendees will enjoy and celebrate the evolution of an art form in a one-hour compilation of the best of the best in short-form immersive narratives.
What Is the VR Theater?
The VR Theater is a world-class showcase of exemplary virtual reality storytelling that celebrates the early evolution of the medium. The main program is a showcase of the best VR narrative content experienced in a high-end, seated, panoramic, multi-viewer immersive space, running approximately one hour from start to finish. Even if you feel like your piece doesn't fit into the main program, we strongly encourage you to still submit!
What Is the VR Theater Looking For?
We want to show pieces that stand out in terms of quality and execution. Selected works will present a mix of experiences from established companies, indies, and educational institutions; should be accessible; and, hopefully, celebrate diversity and inclusion. Submitted content will be reviewed by an expert jury who will evaluate each piece based on thematic fit, how it works in the appropriate space, its order of playback, and, most importantly, whether the theater can respect the viewing format/intended experience.
Note: Submissions for the VR Theater are currently closed.